Free and Featured Reads This Week
Please Note: We do our best to provide current prices of books, but they can change at any moment. Please check price of book prior to downloading. This page contains Affiliate Links. When you make a purchase using these links – Fangs a lot! We will make a small commission at no extra cost to you.
Want to see the latest releases in paranormal romance, urban and fantasy romance?  Check out our New Bites page for weekly updates.
PRE-ORDER MARCH 2024 - NOW OPEN!
Sign-ups for Bite Me Box – March 2024, FLINGS with FANGS,

are now open!
Quarterly subscription box with the HOTTEST PARANORMAL ROMANCE BOOKS and GIFTS, starting at less than $30 per month, billed quarterly.
Santa Babydoll Teddy
From Avidlove
Soft Material: This xmas lingerie set is made of mesh and lace. Light, skin-friendly and comfortable.
Cute Santa: White furry neckline, asymmetrical lace hem, that is both sexy and charming. 
Available in six sizes S-4XL, Colors: Red and Green
Check Pricing and Availability
Vampire Wines in Coffin Gift Box with Cape!
Vampire's award winning Pinot Noir ready to make a lasting impression while resting peacefully in an exquisite Vampire Coffin Box.
 One of the most popular reds from Vampire® Vineyards adorned in a Vampire Wine Cape.
Click on image and use promo code TIMELESS10 for 10% off your purchase.
Fang
An Alien Sci-Fi Romance
Demelza Carlton
FREE!
With dates mates, buddy bachelors and sweet orphans. A fun read for a relaxing evening. Hope you enjoy it too
Shifting Fate
Crescent City Wolf Pack
Book 6
USA TOday Bestselling Author,
Carrie Pulkinen
On Sale – $0.99
He'll cheat fate to save the one he loves.
The Bear and the Nightingale
NYT Bestselling Series,
Winternight Trilogy Book 1
Katherine Arden
On Sale – $1.99
"A beautiful deep-winter story, full of magic and monsters and the sharp edges of growing up."—Naomi Novik, bestselling author of 

Uprooted
Slaying A Tyrant
Ancestors of Jaiya Book 1
Mel Dunay
FREE!
AudioBook - Kissed By Chaos
Her Immortal Monsters Book 1
Kel Carpenter
FREE with Audible Trial
OR $5.99 Kindle
"This series spinoff was everything I had hoped it would be. I love the characters and the storyline. Nat is so relatable as a character that you just fall in the story. " Amazon Reviewer
The Inscrutable Paris Beaufont
Box Set: Books 1 – 9
Sarah Noffke, Michael Anderle
On Sale – $0.99
What this fairy godmother in-training learns isn't just about love. And what she does for the college might change the planet forever—

It is love that makes the world go round, after all.
Dragon's Rogue
Wild Dragons Book 1
Anastasia Wilde
FREE!
Three Wild Dragons. Three Destined Mates. One impossible mission. And an ancient prophecy that binds them all together…
Dragon's Rogue is the first book in Anastasia Wilde's epic trilogy, Wild Dragons. If you love hot dragons with hoards of gold, wild passionate shifter love, danger, excitement and adventure, this is the series you've been waiting for!
Shadow and Ice
Gods of War Book 1
NYT Bestselling Author,
Gena Showalter
On Sal
e – $0.99
(Regular $7.99)
"I love this world . . . this is Gena Showalter at her best!" —J.R. Ward, #1 

New York Times

–bestselling author of The Children of the Gods series

"The Gods of War series is my new obsession." —Christine Feehan, #1 New York Times

–bestselling author of The Leopard series

Horns: A Novel
A Dark Fantasy Novel
Joe Hill
On Sale – $1.99
Joe Hill is the #1 New York Times bestselling author of Heart-Shaped Box, The Fireman, and Full Throttle. He won the Eisner Award for Best Writer for his long-running comic book series, Locke & Key, co-created with artist Gabriel Rodriguez. Much of his work has been adapted for movies and television. His second novel, Horns, was translated to film in 2014 and starred Daniel Radcliffe.
Midnight & Mistletoe
Midnight Rising Series Book 1
USA Today Bestselling Author,
Amanda Kimberley
On Sale – $0.99
The heart of a man is through his bite.
Heart of Steel
A Paranormal Protector Tale
Demelza Carlton
FREE!
She never expected to summon a demon THIS sinfully sexy…
AUDIOBOOK: Destined Mate
Twisted Fate Trilogy Book 1
Jen L. Grey
FREE with Audible Trial
OR $4.99 Kindle
Get this steamy and suspenseful forced-proximity, "touch her and unalive", broody-male, fated-mates, royal wolf-shifter romance today!
Big Crimson 1:
There's a New Vampire In Town
F.C. Schaefer
On Sale – $3.99
BIG CRIMSON 1 is the first volume in a trilogy of epic horror, and love between the unlikeliest of pairs. The story starts here, and if you are a fan of Stephen King and enjoyed From Dusk Till Dawn and 30 Days of Night, this series is for you.
Oath Bound
Unbound Series Book 3
NYT Bestselling Author,
Rachel Vincent
On Sale – $0.99
New York Times

–Bestselling Author: The conclusion to the trilogy set in a "paranormal universe full of interesting characters with awesome powers" (

RT Book Reviews

).
Cursed Vampire
An Urban Fantasy, Unicorn Shifter Stand-Alone Novel
Brogan Thomas
FREE!
Half unicorn, half bloodsucker, all trouble. When her secret gets out, can this feisty teenager survive?
The Birth of Vengeance
Vampire Formula Series Book 1
FREE! Two Days Only
What if you could be superhuman for a night?
Take bloody revenge on those who have wronged you, with no one knowing.
A Curse for True Love
#1 New Release: Dark Fantasy for Teens
Once Upon A Broken Heart Series
Stephanie Garber
FREE with Audible Trial
OR $11.99 Kindle
Blood will be shed, hearts will be stolen, and true love will be put to the test in 

A CURSE FOR TRUE LOVE

, the breathtaking conclusion to Stephanie Garber's #1 

NEW YORK TIMES 

bestselling Once Upon A Broken Heart trilogy
Unholy Night
A Paranormal Holiday Romance
USA Today Bestselling Authors,
Nichole Chase and Karpov Kinrade
On Sale – $0.99
From Nichole Chase, the New York Times Bestselling author of Suddenly Royal, and Karpov Kinrade, the USA Today Bestseller of Vampire Girl, comes a holiday romance sure to put the magic back in your year.
Shades
A.L. Hawke
On Sale – $0.99
They hunt angels on the highway.
This book had everything… Good versus evil. Angel versus Demon. Romance . A road trip . I really liked this book!!.
Shifters of Black Forest Ridge: Quinn
A Fated Mates Paranormal Romance
Sedona Venez
On Sale – $0.99
If she doesn't accept our mating bond, I will go feral like every unmated male in Black Forest Ridge.
Kidnapped By The Krampus
A Holiday Monster Romantasy
Zoe Chant
$4.99
Krampus will change the way you see eggnog forever!
Fated to the Wolf
The Complete Series: Audiobook
USA Today Bestselling Author,
Heather Renee
On Sale – $9.99
OR FREE with Audible Trial
When tasked with tracking down the mate you never wanted, nothing ever goes as planned.
The Wolf and the Woodsman
A GoodReads Award Nominee
Ava Reid
On Sale – $1.99
With a setting rich in detail and folklore, a fascinating look at the complex morality of religious disagreements, and an enemies-to-lovers romance between strong characters, this is an excellent debut." — 

Booklist
A Mate For Christmas
Collection One
Zoe Chant
FREE! 
(Regular $8.99)
Escape to a world of Christmas magic, where dragon shifters soar over snowy mountains and sleigh-bells jingle on hellhounds' harnesses. Festive fun and shifter soulmates await in these holiday romances that are sure to warm your heart no matter what the season.
Princess of Thorns and Ruin
A Dark Fantasy Romance
Anya J Cosgrove
On Sale – $3.99
Princesses are expected to smile, hold their tongues, and stay in the shadows…but not this princess.
Whiskey Witches
A Demon and Witches Urban Fantasy
F.J. Blooding
FREE!
A string of occult murders. A witch with no powers. The fun never ends.

 
To Shape A Dragon's Breath
The First Book of Nampeshiweisit

 
"An early contender for the best fantasy novel of 2023."—

The Washington Post
M. Blackgoose
$11.99
OR FREE with Audible Trial
A 

WASHINGTON POST 

AND 

POPSUGAR 

BEST BOOK OF THE YEAR
The Alpha
Black Arrowhead Series
Book 2
Dannika Dark
On Sale – $0.99
(Regular $4.99)
"ALL MEN ARE CAPABLE OF REDEMPTION; FEW MEN SEEK IT."




Book 2 in the Black Arrowhead series will leave you on the edge of your seat.



Court of Assassins
The Ranger Archives Vol 1
Philip C. Quaintrell
On Sale – $0.99
MYTH. LEGEND. NIGHTFALL HAS LONG BEEN RUMOURED TO BE NOTHING MORE THAN WHISPERS ON THE BREEZE.
IF ONLY IT WERE SO…
Guardians of the Phoenix
Box Set: Books 1 – 5
JL Madore
Audiobook -Great Price – $9.95
OR FREE with Audible Trial
Guardians of the Phoenix 

includes audiobooks one through five of the best-selling Guardians of the Fae Realms fantasy romance series in one volume: 

Rise of the Phoenix, Wolf's Soul, Bear's Strength, Hawk's Heart, and Jaguar's Passion.
Bad Blood
Witches of Nightfall
Book 1
Bella Jacobs
FREE!
Darcy Blackmore, head of the Blackmore vampire clan, is one bossy, arrogant, insufferable piece of work.




He's also my only hope.
Moon Blood
The First Blood Son
Book 1
Carol McKibben
On Sale – $0.99
The vampire mystery thriller that began with Snow Blood continues with the first blood son series.
Romance Rules for Werewolves
Charming Cove Book 3
Linsey Hall
Great Price – $4.99
Romance Rules for Werewolves 

is a fun, frothy romantic comedy full of laughter, love, and magical hijinks. It's the third in a series of stand alone romances set in the seaside village of Charming Cove and the books do not need to be read in order.
A Catamount Christmas
Catamount Lion Shifters
Book 5
J.H. Croix
FREE!
A swoony shifter romance from USA Today Bestselling author J.H. Croix! If you like smoking hot paranormal romance with a twist of suspense and adventure, you'll love this second chance holiday romance!
Oops, I Dated Our Bachelor
A Paranormal Chick-Lit Romance
Vampire Final Rose Book 1
Cyndi Faria
FREE!
Vampire Isla Pierce doesn't believe in eternal love, since it won't last, so why try? Determined to convince Isla that love exists, her witch bestie signs her up for the televised reality dating show
Our Bachelor.
When a Princess Proposes
Embraced By Magic Book 3
Kerrelyn Sparks
Great Price – $1.99
Aerthlan's five Embraced queens have reigned for twenty years, in peace secured by the power of their magic. But now a new and insidious threat has appeared, to test a new generation.
Purrfectly Mated
The Maverick Pride Tales Book 1
C.D. Gorri
FREE!
In order to lead his pride, tiger shifter Hunter must tame his clawing inner beast by finding his fated mate. When a stranded Elissa makes her way to Hunter, he knows she's the one. The problem? She has no idea shifters exist!
Insatiable
NYT Bestselling Author, Meg Cabot
On Sale $0.99
When you're starting a relationship, blood drinking is a big red flag . . . A delicious tale by the #1 New York Times–bestselling author of Enchanted to Meet You!
Autumn Chaos
An Epic Romantic Fantasy
Olena Nikitin
Great Price – $0.99
If you like gritty humour of the Witcher, immerse yourself in Season's War series and learn about the kingdom of Cornovii, where passion is mixed with cruelty, and the unwilling hero with world-shattering power has to make impossible choices. Epic Fantasy with mature themes – reader caution advised.
Alien Adoption Agency
Box Set: Collection 2
Tasha Black
$0.99
If you like strong women, dragon-shifting warriors, adorable baby aliens, wild adventures, steamy sensual scenes, and happily-ever-afters, then you'll love exploring exotic frontier worlds with the Alien Adoption Agency!
Old Scores
Bram Stoker, author of Dracula, was born November 8, 1847, in Dublin, Ireland. In honor of the father of modern vampire literature, the Old Scores ebook will be on sale November 8, 2023. 
One Day Sale – $1.99 
A.J. Harrison
It takes only a brief mischance and a few drops of blood to awaken an unspeakable evil and unleash it upon an unsuspecting world.
The Ever King
A Dark Fantasy Romance
USA Today Bestselling Author,
LJ Andrews
Great Price – $5.99
Welcome to the passionate world of the Ever Kingdom where pirates, sirens, and fae collide with Vikings in a dark fantasy romance between a villain and the innocent princess who holds his heart.
The Pale-Eyed Mage
The Dark Amulet Book 1
Jennifer Ealey
FREE!
With ancient prophecies coming to bear and deadly enemies at all sides, can they uncover the secrets of the dark amulet.. and survive?
Million Dollar Demon
Hallows Book 15
NYT Bestselling Author,
Kim Harrison
Best Price – $2.99
"I wouldn't miss a Kim Harrison book for anything."–Charlaine Harris, New York Times bestselling author of the Sookie Stackhouse series 
The Seven Series: Books 1 - 4
A New Orleans Witches Family Saga
Sarah M. Cradit
Great Price – $0.99
One of the seven will die. There's nothing they can do to stop it.
Stranded with the Wolf
A Fated Mates Werewolf Romance
Savannah Sterling
FREE!
Warning: Stranded With the Wolf is a short and steamy fated-mates romance with possessive alpha werewolf vibes. Sparks may trigger a forest fire in your panties. 
Scout
Daverius: House of DaR Book 11
Jennifer Julie Miller
Best Price – $0.99
Trying to be the hero, I lost it all without even knowing it. The world went on without me. However, our love proved to be stronger, and apparently the gods were not done with me yet. With me gone, an unlikely partnership forms risking it all to bring me back, but will it be me, or something else that emerges.
Bad Luck Vampire
An Argeneau Novel
NYT and USA Today Bestselling Author,
Lynsay Sands
New Release – $6.99
New York Times bestselling author Lynsay Sands returns in this latest chapter of the Argeneau series with an immortal who is having a bit of bad luck while trying to woo his life mate…
Hex and the City
A Spicy Witch Romance
Kate Johnson
Great Price $0.99
A laugh out loud witchy romcom for fans of Lana Harper and Erin Sterling !
Midnight Moon
A Wolf Shifter Paranormal Romance
USA Today Bestselling Author,
Samantha Britt
Best Price – $0.99
The Alpha Games: A competition where shifters from all over North America compete to see who will be named the leaders of our race.
No female has ever competed…
Until me.
Dance of the Damned
F/F Paranormal Romance Novella
Eden Hopewell
On Sale – $1.99
A Witch and a Vampire.
A Forbidden Instalove.
A trap meant to kill them all.

Shelter for a Shifter
A Grumpy Werewolf Romance
Lauren Connolly
FREE!
All Ame asks for is the right spell, a full moon, and a cooperative cat. She does not ask for a naked werewolf. 
The Lost Bookshop
2023 Bestseller!
Evie Woods
Best Price – $0.99
The Echo of Old Books meets The Lost Apothecary in this evocative and charming novel full of mystery and secrets.
Inked
Winner of the 2023 Bookfest Women's Fantasy Gold Medal Award!
Rachel Rener
On Sale – $3.99
"An engaging, sexy love story with chills, humor, and supernatural intrigue." – Kirkus Reviews

Beauty and the Beastmaster
Mystic Springs Book 3
NYT Bestselling Author,
Linda Winstead Jones
On Sale $0.99
Demon Hunter Academy
A Standalone Paranormal Romance
Traci Lovelot
FREE! 
At the Demon Hunter Academy, a witch's worth comes from her magic and her demon fighting prowess.
Hammer of Fate
A Fantasy Adventure
G.N. Gudgion
On Sale – $0.99
The Rune Song Trilogy Book 1
"Exceptional… An epic fantasy story that's truly epic. A main character you can love and root for." ⭐⭐⭐⭐⭐
Dante's Circle Box Set
Books 1 – 3
NYT Bestselling Author,
Carrie Ann Ryan
FREE! (Regular $9.99)
Prodigal Son
A Dark Paranormal Fantasy Romance
Lydia Michaels
FREE! 
with Entry into Giveaway
Bestselling author, Lydia Michaels, weaves a ferociously addictive tale of immortal hunger, lust, and noble sacrifice in the haunting continuation of The Order of Vampires series.
My Dark Horse Prince
The Russian Witch's Curse
Book 2
Bridget E. Baker
On Sale – $0.99
Book 3 – The High Horse Czar – JUST RELEASED $5.99
Riding Through Fire
The Dragon Tributes Book 1
Charlene Hartnady
On Sale $2.99
The dragons on Draig Island are not your run-of-the-mill kind. They're something else entirely…
Waking Love's Hunger
A Steamy Vampire Paranormal Romance
Jeff Ellis
FREE! 
with Entry into Giveaway
Hidden in the Seattle underground, a clan of Vampires sells sex, power and information, controlling politics and influencing an illicit world of human-looking creatures with incredible powers and intense hungers…

The Fairy Prince
An MM Halloween Paranormal Romance
JS Harker
$3.99
His Fairy Prince is a stand-alone novel that features a guy who's never fit in, a prince who longs for true love, the occasional spider, and a sentient kingdom that's decided to smoosh the lovebirds together. With hints of spiciness, this book is 60k words of autumnal, spooky adventure.
The Dark Ones
The Dark Ones Saga
Book 1
NYT Bestselling Author
Rachel Van Dyken
FREE!
To touch a Dark One is death. To talk to an immortal is suicide. Yet, I've been marked by both.
A Vampire.
And the King of the immortals.
Better Homes and Hauntings
An 'Oldie But Goodie' Paranormal Romance
Molly Harper
On Sale $1.99
Author of the beloved Half Moon Hollow series of vampire romances (Nice Girls Don't Have Fangs), Molly Harper has created a standalone paranormal romance in which a dilapidated haunted house could bring star-crossed lovers together—if it doesn't kill them first!
Virulent
The War of Blood and Roses
Book 2
R. Valentine
Free! with Entry
The War of Blood and Roses is a sexy, addictive, and action-packed unique fantasy perfect for fans of J.R. Ward and Jennifer L. Armentrout!
My Haven, My Midnight
 The Cynn Cruors Bloodline Series
Book 5
Isobelle Cate
FREE with Entry in Giveaway
An enchanting damsel in distress…and the sexy immortal that longs to claim her.
Thor
A Paranormal Protector Tale
Demelza Carlton
FREE! 
with Entry into Giveaway
Heart of Ice Series
Vampire of the Mists
Ravenloft: The Covenant
Christie Golden
On Sale – $0.99
Alone and torn by grief, a vampire accepts the hospitality of the local lord—only to question if he has placed his trust in the wrong person
Emily Wilde's Encyclopedia of Faeries
♥NATIONAL BESTSELLER♥
Heather Fawcett
On Sale $2.99
"A darkly gorgeous fantasy that sparkles with snow and magic."—Sangu Mandanna, author of The Very Secret Society of Irregular Witches
Moonrise Over River Rabbit
A Wolf Shifter Romantic Fantasy
Elyce De Reefe
FREE! 
Limited Time
A fledgling pack struggles to survive during chaotic times, when mates are scarce, and competition is fierce. For there is turmoil in the wolf shifter community.
The Change
A Good Morning America Book Club Pick
Kirsten Miller
On Sale – $1.99
Big Little Lies meets The Witches of Eastwick—a gloriously entertaining and knife-sharp revenge fantasy about three women whose midlife crisis brings unexpected new powers—putting them on a collision course with the evil that lurks in their wealthy beach town. 
Cruel Seduction
Dark Olympus Book 5
NYT Bestselling Author,
Katee Robert
On Sale $7.39
He was my enemy. My lover. My husband. And the one man I swore by all Olympus I would destroy.
*A scorchingly hot modern retelling of Aphrodite and Hephaestus (and Pandora and Adonis).*
Dragons of a Fallen Sun
The War of Souls Book 1
Weis & Hickman
On Sale $0.99
Limited Time
A new age dawns—and a war for the heart and soul of Krynn begins—in this first book in the War of Souls trilogy, from the creators of the Dragonlance universe
 
The Cowboys of Copper River
Box Set: Books 1 – 3
Jillian David
On Sale – $1.99
Three Full-Length Wild Adventures Through Western Wyoming with Sexy Ranchers, Smart Women, and Otherworldly Forces
Golden
The Golden Wolf Series Book 1
NYT Bestselling Author,
Shannon Mayer
On Sale $0.99
The Little Mermaid meets Loki in this dark, twisted retelling that's anything but a Fairy Tale. In this world, foes look like friends, the heroes are deliciously wicked, and you'll never see the end coming.
Druid Magic
Druid Academy Book 1
C.S. Churton
FREE! 
(Regular $3.99)
You'll love this Academy fantasy, because of the twist, turns, and magical surprises.
Agents of the Crown
Box Set: Books 1 – 5
Lindsay Buroker
On Sale – $0.99
In a far away kingdom, an immensely powerful soul is trapped in a jewel called a dragon tear. Whoever holds it has access to great magical power, but, as in all times and places, power is seductive and dangerous.
Pretty Little Psycho
A Dark Romance Novel
M Violet
New Release $4.99
With every breath, they claim another piece of me…
Wolf at the Door
Chambray Shifters Paranormal Romance
Tana Jenkins
$0.99
Some secrets take a lifetime to discover…
The Binding: A Novel
Bridget Collins
On Sale – $1.99
Imagine you could erase grief.
Imagine you could remove pain.
Imagine you could hide the darkest, most horrifying secret. Forever.
Beasts & Bikers
Werewolves of Greenville Box Set Books 4 – 6
Keira Blackwood
On Sale $0.99
They're gruff, they're warriors, they're enemies, and they'll be brought to their knees by the women who own their hearts. Expect a secret child, friends-to-lovers, high stakes, and laughs.
The Serpent and the Wings of Night
♥ILVN Book Club Pick!♥
Carissa Broadbent
FREE! with Audible Trial
OR $4.99 Kindle
For humans and vampires, the rules of survival are the same: never trust, never yield, and always–always–guard your heart.
Revenant
A Dark Paranormal Romance
R. Valentine
FREE!
Very Limited Time
Revenant is a haunting, intensely sexy, and passionate paranormal romance.
Dakonian Aliens Mail Order Brides
Box Set Vol. 1
Cara Bristol
On Sale $0.99
Regular $6.99
With their world desperately short of women, aliens from planet Dakon join a dating agency and come to Earth in search of their fated mates.
Eye of the Wolf
An Epic Fantasy Adventure
A.E. Rayne
GREAT PRICE! $0.99
★ ★ ★ ★ ★
 

'I fell in love with the worldbuilding and magic system. I believe it to be one of the best fantasy series I've read.'
Alpha Unbound
Feral Pack Book 1
Eve Langlais
On Sale – $0.99
Only one woman makes him want to howl.
Bound
A Dark Paranormal Shifter Fantasy
Julie Embleton
FREE!
Would you sacrifice love to stay alive?
See You In Hell
Mel Goes To Hell Series Book 2
Demelza Carlton
GREAT PRICE! $0.99
A devilishly hot CEO. The angelic new office temp. A match made in Heaven or Hell?
Flame of Requiem Box Set
The Complete Trilogy
Daniel Arenson
On Sale – $0.99
This bundle includes all three novels in Flame of Requiem, an epic fantasy trilogy about memory, freedom, and dragonfire.
A Vampire Bewitched
Deathless Night Series Book 1
L.E. Wilson
FREE!
A Vampire Bewitched, book 1 in the Deathless Night series, is a spicy, adult paranormal romance full of action and suspense, and maybe even a few Scottish werewolf shifters. 
The Frozen Queen
Reluctant Heir
Bekah Clark
GREAT PRICE! $0.99
Frozen Queen Series Book 1
Old Scores
A. J. Harrison
New Release $4.99
It takes only a brief mischance and a few drops of blood to awaken an unspeakable evil and unleash it upon an unsuspecting world.
My Eternal Soldier
A Vampire Fated Mates Fantasy Romance
USA Today Bestselling Author,
Krystal Shannan
FREE!
"Vampires have never been so sexy or dangerous!" –Liliana Hart, NYT Bestselling Author
The Order of Vampires
Boxed Set Books 1 – 3
Lydia Michaels
GREAT PRICE! $1.99
"This dark paranormal romance is not your mother's vampire book." —Book Finds & Wine
Immortal Bastard
The Order of Vampires Book 4
Lydia Michaels
New Release $5.99
"This dark paranormal romance is not your mother's vampire book." —Book Finds & Wine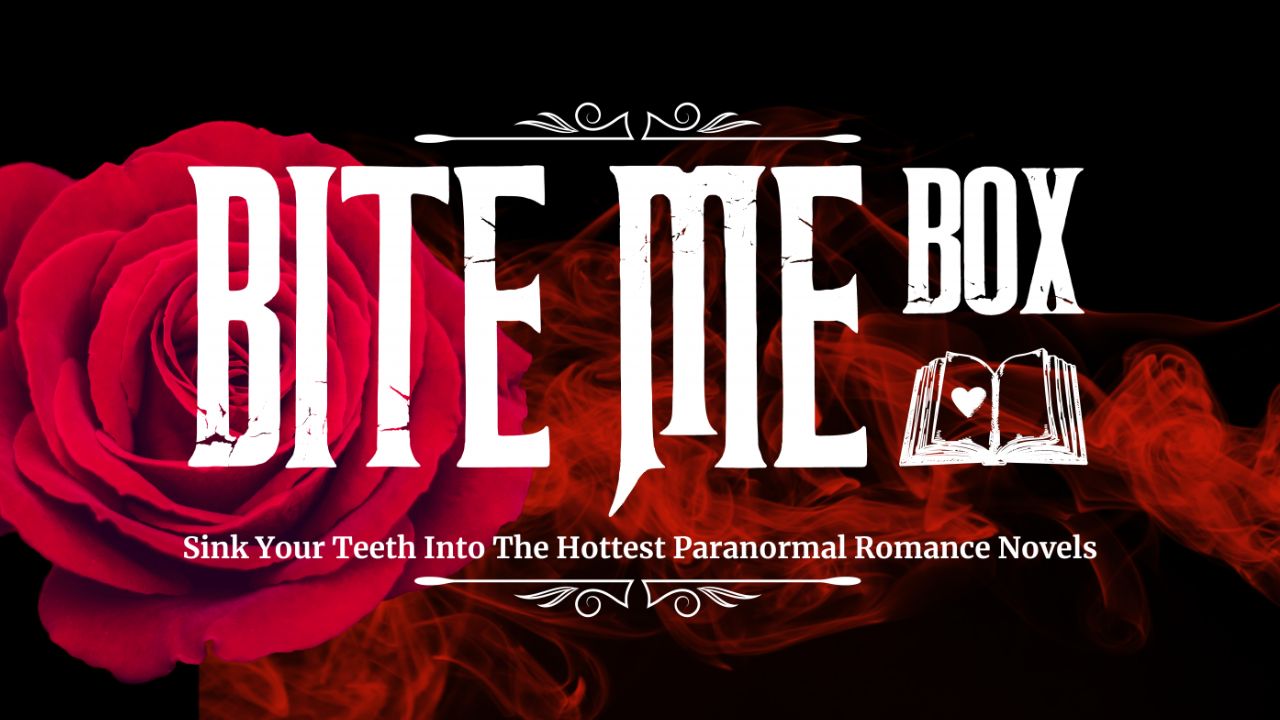 AVAILABLE FOR LIMITED TIME!
We've had a fangtastic response to the relaunch of Bite Me Box (TM) and so we've made an additional 20 boxes available for purchase.  Both subscriber and one-time purchases starting at under $30 per month. Hurry to reserve yours…because when they are gone, they're GONE!
Get 2-3 exclusive print books, customized gifts and goodies sent you to quarterly and prepare to devour its contents. 
The Twisted Mark
An Unputdownable Fantasy Romance
Sophie Williamson
On Sale $0.99
The Twisted Mark is a forbidden love, enemies-to-lovers fantasy novel that will keep you up all night. Perfect for fans of Jennifer Armentrout and the The Plated Prisoner series.

Bad Blood Panther
A Second-Chance Panther Shifter Paranormal Romance
Anastasia Wilde
FREE! Limited Time!
His former best friend is begging for Xander's protection.
He can't help her. He can't even help himself.
Sky Ice
The Earthbounders Book 1
FREE!
(Regular $4.99)
This spell-binding adventure with the elements of good vs. evil, demon hunters, angels, fae, magic, and a slow-burn romance is perfect for the fans of 

The Mortal Instruments

 and 

Shadow and Bone

.
How Does It Feel?
Infatuated Fae Book 1
Jeneane O'Riley
On Sale $3.99
As Seen on Tik-Tok… and "The next big fantasy novel" Amazon Reviewer
The Baker's Guide to Risky Rituals
A Kitchen Witch with a bite, a King of Hell on a mission, and a candy coated town hiding bitter secrets.
Kathryn Moon
FREE! Limited Time!
Amazon Review…"Ms. Moon's writing always seems a magical balance of prose, action, steam, and profanity and the intro to Sweet Pea definitely fits this."
Frost
A Dramatized Adaptation/Graphic Audio
C.N. Crawford
Reduced price of $5.95 with Audible Trial
(Regular $27.26.)
Frost & Nectar Book 1
Slay All Day
Sin All Night
Cynthia Eden
$0.99
What happens when a monster hunter falls for his prey?
The Foxglove King
The Nightshade Crown Book 1
Hannah Whitten
On Sale $2.99
In this lush, romantic epic fantasy series from a New York Times bestselling author, a young woman's secret power to raise the dead plunges her into the dangerous and glamorous world of the Sainted King's royal court.
Blood Magic
Wing Slayer Hunter Book 1
Jennifer Lyon
FREE!