Are you a Legacies fan?  As you can imagine, everyone at ILVN is a huge fan of The Vampire Diaries, The Originals, and the Legacies franchise.  So we couldn't wait to give you the scoop on our favorite Legacies cast members!
In case you didn't know, Legacies is a spin-off of The Originals (which is a spin-off from The Vampire Diaries).
Legacies is about Klaus Mikaelson's daughter, Hope Mikaelson, who is attending a school for paranormal children in Mystic Falls where The Vampire Diaries originally took place.
Now here's 18 things you didn't know about the Legacies cast!
Legacies Cast: Danielle Rose Russell (Hope Mikaelson)
#1 Danielle Rose Russell was a child model.
Danielle (Hope Mikaelson) became a model at ten years old. By the time she was twelve, she had done lots of commercials and print jobs.
#2 Dainelle was body shamed.
Danielle is apparently considered curvy for an actress, and has been the target of fat-phobic haters. However, Danielle has said in an interview that she is proud of her curves which empower her as a woman.
#3 Fans are shipping "Hosie!"
Danielle and Kaylee Bryant (who plays Josie Saltzman on Legacies), have gained so much praise for their chemistry, that fans want their characters to turn gay and date each other.
Legacies Cast: Matthew Davis (Alaric Saltzman)
#4 Matthew co-starred in Legally Blonde.
If Matthew Davis looks familiar, it might be because he played Elle Woods' ex-boyfriend, Warner, alongside Reese Witherspoon in Legally Blonde.
#5 He delivered pizza to the stars!
Before becoming an actor, Matthew worked as a pizza delivery boy and once delivered a pizza to Andy Garcia from Oceans Eleven.
Legacies Cast: Kaylee Bryant (Josie Saltzman)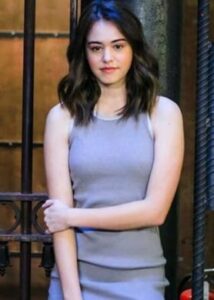 #6 Kaylee Bryant's real name.
Kaylee Bryant's real name is Kaylee Kaneshiro. She was born in Orange County, but most of her family lives in Hawaii.
#7 Kaylee was a Disney Channel actress.
Like many young actresses, Kaylee's career started on the Disney Channel. Her first acting role was as Tina Garcetti on the teen sitcom A.N.T. Farm. Though she had guest appearances in many other Disney Channel shows as well.
#8 She was a big fan of The Vampire Diaries!
Kaylee and her mother became rabid fans of The Vampire Diaries when Kaylee was just 15 years old. Years before she ever auditioned for Legacies!
Legacies Cast: Jenny Boyd (Lizzie Saltzman)
#9 Jenny has dual citizenship.
Jenny Boyd was born on February 27th, 1991 in Sion, Switzerland. She now holds dual English and U.S citizenship.
#10 You'll never guess who her best friend is.
Jenny and Kaylee play twin sisters on Legacies, but the girls also claim to be best friends in real life. Jenny often says that Kaylee is her sister from another mother.
Legacies Cast: Aria Shahghasemi (Landon Kirby)
#11 Aria's parents are immigrants. 
Aria Shahghasemi was born in Minneapolis, Minnesota but his parents migrated into the US from Iran.
#12 He has extensive beer knowledge.
Before becoming an actor, Aria worked as a bartender and manager in Pier A and Rue B lounge in New York, specializing in seafood, fine dining, making cocktails, and formulating beer lists. 
#13 Aira keeps a low profile.
Aria Shahghasemi is only on Instagram and he hardly ever posts. Despite the attention he receives for his role on Legacies, he doesn't have a wiki page or any other social media accounts. He's very private.
Legacies Cast: Quincy Fouse (Milton 'MG' Greasley)
#14 Quincy was in Logan.
Quincy Fouse has only been acting for a few years, but he caught a lucky break when he appeared alongside Hugh Jackman in the movie Logan.
#15 Quincy's character is a Legacies favorite!
Fouse has received an approval rating of 80% for his work in Legacies. This is remarkably high and a big deal for a young actor. Many actors with a longer career than Fouse never make it that far. Thus, Quincy has been marked as an actor to keep your eye on.
Legacies Cast: Riley Voekel (Freya Mikaelson)
#16 Riley played softball for 9 years.
Riley is a big sports fan. She was playing at the college level when she was approached with an offer to model that eventually led to acting.
#17 Riley was in American Horror Story: Coven.
Riley played the younger version of Fiona Goode. She's also had several roles and guest appearances in many other shows and films, including The Newsroom, Glee, and The Social Network.
#18 Her favorite film is The Secret Lives of Dorks.
Riley has said her favorite movie is The Secret Lives of Dorks, an independent film that was released in 2013, where she played her first starring role as Carrie.
The Vampire Diaries, The Originals, and Legacies are available to watch on Netflix.
You might also like these 20 Stunning YA Paranormal Romance Books.
What do you think of these Legacies cast facts? Got any we missed? Let us know in the comments below.