This is everything you need to know about the much-loved Outlander cast. We've got facts about Sam Heughan, Caitríona Balfe, Tobias Menzies, Sophie Skelton, Graham McTavish and Richard Rankin (although we wish that we could have done every amazing actor from the show). The Outlander show is based on the books by Diana Gabaldon. The Starz TV show adaption was made in 2014, with a total of five seasons currently and it has been renewed for two more. Each season is based on its respective book, so season one is based on book one, etc. You can learn everything about the books by clicking here >>
But for now, you need to check out these facts about the Outlander cast.
Outlander Cast: Sam Heughan (Jamie Fraser)
He launched his own whiskey brand
And guess what? It's named The Sassenach, which is what Jamie's nickname for Claire. It has won double gold in the San Francisco World Spirits Competition two years in a row (2020 and 2021)! You can check out the official website by clicking here >>
He's named after a character from The Lord of the Rings
His parents were a part of a hippie community in London called Gandalf's Garden which was heavily influenced by the works of J. R. R. Tolkien. So they named Sam and his brother Cirdan after The Lord of the Rings characters.
He has done a lot of charity work
Heughan is a patron for Youth Theatre Arts Scotland. He took part in the Great North Run in 2016 to raise funds for Bloodwise, where he has been president since 2011. Also, he did both the Stirling and EMF Edinburgh Marathons to raise money for Cahonas Scotland and their Testicular Cancer Education and Awareness Programme. And, to top it all off, in 2015 he started his own organization, My Peak Challenge.
Outlander Cast: Caitríona Balfe (Claire Fraser)
She used to be a model
Balfe was scouted by an agent while she was collecting money for charity at a local shopping centre, which started her modelling career. At the age of 18, after only modelling in Dublin for a few months, a Ford Models scout offered her the chance to work for them in Paris. In a three-year period, she walked in more than 250 runway shows and she was considered to be among the twenty most in-demand models in the world at the height of her career. Some of her highlights include opening and closing shows for Chanel, Moschino, Givenchy, Dolce & Gabbana, Alberta Ferretti and Louis Vuitton. Which is not surprising at all because of how gorgeous she is!
Balfe is bilingual
In addition to English, she can speak fluent Irish and she is conversant in French.
She has her own brand of gin
Balfe launched her own gin brand in August 2020 called Forget Me Not. It is a Scottish-based small batch gin. A quarter of the proceeds go to funding arts programmes. You can check it out by clicking here >>
Balfe has been nominated for a lot of awards for her Outlander role
Because of her amazing performances as Claire, Balfe has won: the Scottish BAFTA, the Irish Film and Television Award, two People's Choice Awards, and two Saturn Awards. On top of this, she has received four Golden Globe Award nominations for Best Actress in a Television Series – Drama and two Critics' Choice Television Awards nominations. We think she totally deserves all of them!
Outlander Cast: Tobias Menzies (Professor Frank Randall and Jonathan "Black Jack" Randall)
He's best known for his role as a prince
Menzies was Prince Phillip, Duke of Edinburgh in the TV series The Crown. And, as well as this, he played Edmure Tully, the heir to House Tully of Riverrun, in Game of Thrones. You may also recognize him from his role as Brutus in Rome. Menzies has also been in many theater productions and he's done acting on BBC Radio multiple times.
He is a fan of sports
Since an early age, Menzies has been a fan of lawn tennis. He actually wanted to become a tennis player when he was young. In English football, he is a fan of Arsenal FC.
Menzies wanted to be an actor in his teens
His love for acting began with frequent trips to the theater with his mother as a teenager. It drew him in and he decided to pursue a career in acting. He attended a drama company before enrolling in Royal Academy of Dramatic Art (RADA). He eventually graduated with a BA Degree in Acting (1998). Upon completion, he participated in improvisation workshops through The Spontaneity Shop as part of a graduate program through RADA.
Outlander Cast: Sophie Skelton (Brianna Fraser)
Her career started with ballet
Skelton began dancing at the age of three, eventually training in ballet at the Royal Academy. She then moved into musical theater and stage productions. She got her first professional TV role in 2012 as schoolgirl Becca Smith in a two episode stint for the Britsih crime drama DCI Banks. After completing her A Levels, Skelton was going to attend King's College London to study English Literature, but turned down the offer to pursue an acting career instead.
Her break-out role was in a fantasy action-adventure series
She starred as Ren in the online series Ren: The Girl With The Mark in 2016. She received a Hyperdrive Festival Award for Best Leading Actress. Skelton was also nominated for Best Actress in both the Jury Award and International Online Web Fest.
She's British
Don't let her American accent in Outlander fool you – Skelton is British. She said she mastered her American accent when watching Friends, which she watched reruns of growing up.
Graham McTavish (Dougal MacKenzie and William Buccleigh MacKenzie)
He's a vampire
Or he's just well-known for his voice acting for a vampire. McTavish voices Dracula in the Netflix series Castlevania. He has also appeared in: Dwalin in The Hobbit, The Saint of Killers in the AMC series Preacher, and for his voice acting in a lot of video games. And we mean a lot. McTavish has been in loads of TV shows, films and video games.
McTavish has lived in many places
He was born in Glasgow, Scotland. His family left Glasgow when he was a child. Throughout his adult life, he has lived in places such as Canada, the United States, and England before settling in New Zealand. He still lives in New Zealand now with his wife, Gwen, and two daughters Honor and Hope.
He has co-wrote a book
With his Outlander co-star Sam Heughan, they wrote the book Clanlands: Whisky, Warfare, and a Scottish Adventure Like No Other. Click here to view on Amazon >>
Richard Rankin (Roger Mackenzie Wakefield)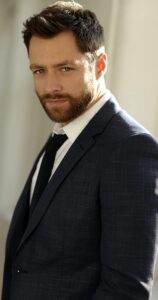 He initially studied IT in university
Rankin attended Glasgow Caledonian University as an IT major. However, he changed course after a chance encounter at the Hollywood Roosevelt Hotel during a holiday to LA. A local film producer told him that he had the look of an actor. Upon his return to Glasgow, he auditioned for Langside College with his brother Colin Harris. Both graduated and went on to a career in acting. Rankin's first ever role was in VideoGaiden in 2006.
He likes photography
In March 2019, Rankin hosted a one-night solo photography exhibition at the Littlefield Gallery NYC. He entitled the exhibition as 'His Mind's Eye'.
Rankin is 6 ft 0 in
Although the fact he's 6 ft might make him seem tall, he's actually the shortest male included on here. Heughan, Menzies and McTavish are all taller than him!
Which of these facts shocked you the most? Let us know!