Get to know the Supernatural cast by finding out fun facts about them!
Supernatural has fifteen seasons with a total of 327 episodes! It started airing in 2005 and finished in 2020. And when the eleventh season aired, it became the longest-running American live-action fantasy TV series.
The show follows the brothers Sam and Dean Winchester as they travel across America in their 1967 Chevrolet Impala hunting demons, ghosts, monsters and other supernatural beings.
Jared Padalecki (Sam Winchester)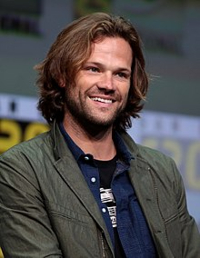 His career started because of the Teen Choice Awards
In 1999, Padalecki won Fox Broadcasting's 'Claim to Fame Contest'. Subsequently, he appeared at many Teen Choice Awards, where he met his agent. His first role was a minor one in the 1999 film A Little Inside. In 2000, he was cast as Dean Forester in Gilmore Girls, which he played until 2005. He was added to the Supernatural cast also in 2000. He had the role of Sam for 20 years!
Padalecki has his own campaign that supports charities
In 2015, Padalecki started his Always Keep Fighting campaign, releasing t-shirts featuring the slogan. His first campaign supported To Write Love on Her Arms, which reportedly raised over $250,000. Later campaigns supported The Wounded Warrior Project and Attitudes in Reverse.
He's really tall
Padalecki is 6'4″, making him the tallest person on this list!
Padalecki met his wife whilst on set for Supernatural
Jared Padalecki and Genevieve Cortese (who played Ruby in season 4) actually met on the show! And he proposed to her in front of their favorite painting "Joan of Arc" by Jules Bastien-Lepage at New York's Metropolitan Museum of Art in October 2009. They got married on the 27th of February 2010. They now live in Austin, Texas with their three children.
Jensen Ackles (Dean Winchester)
He's directed Supernatural episodes
Ackles has directed six episodes of the show! He directed: episode 4 in season 6 and season 15; episode 3 in seasons 7, 8, 10 and 11.
He's voiced Batman
Outside of Supernatural, Ackles has voiced Batman in Batman: The Long Halloween Part One that was released this year. He'll be in Part Two as well! Ackles will also be starring in season 3 of The Boys as Soldier Boy, which is currently filming and is set to be released some time this year. Click here to catch up on the other seasons on Amazon Prime now!
Ackles is the co-owner of a brewery in Texas
He co-owns the Family Business Beer Company with his wife and in-laws in Dripping Springs, Texas. The brewery's name is even a Supernatural reference!
Being an actor wasn't his initial plan
Although he had been modelling on and off since the age of four, Ackles had planned to study sports medicine at Texas Tech University to become a physical therapist. But instead he moved to Los Angeles to pursue a career in acting. It's hard to imagine Ackles not being a part of the Supernatural cast!
Supernatural Cast: Misha Collins (Castiel)
He interned at the White House
Before acting, Collins interned for four months White House during the Clinton Administration in the Office of Presidential Personnel.
Collins is a published poet and writer
His poems, 'Baby Pants' and 'Old Bones', can be found in the 2008 edition of Columbia Poetry Review #21. He's also co-written a cookbook with his wife, Vicki Collins. The most of the book's sales will go towards charitable organizations that specialize in food nutrition. And Collins, along with several other collaborators, are authors of 'The 2D Shape Structure Dataset', an academic based research paper.
He does a lot of charity work
Collins is the co-founder and board member of Random Acts, a non-profit organization that funds and inspires acts of kindness around the world. In 2011, Collins founded the Greatest International Scavenger Hunt the World Has Ever Seen (GISHWHES). Entrance fees go towards Random Acts. GISHWHES broke  the record for most pledges to perform an act of kindness in 2012.
Collins, Ackles and Padalecki have a great on-screen bromance
They even won an award for it too! In 2014, the trio's characters won the People's Choice Award for Favorite TV Bromance. They beat shows like The Big Bang Theory and How I Met Your Mother for the newly introduced bromance award.
Alexander Calvert (Jack Kline)
Calvert was interested in dance
Before acting, Calvert used to do hip-hop and dance in his youth. However, when he turned fifteen, he became interested in film and television. Initially, he starred in commercials for Mattel, General Mills and Kohl's. Then he started to have offers for TV and films.
He joined the series in 2017
Calvert lived in Vancouver and although he had never watched it, he grew up around characters and references from the show. He debuted in Supernatural in the season twelve finale. For the rest of the seasons until the end, he became a series regular.  
Supernatural Cast: Mark A. Sheppard (Crowley)
Sheppard is a musician
At 15, he became a professional musician and spent many years touring with bands such as Robyn Hitchcock, the Television Personalities and the Irish group Light a Big Fire. He also played the drums on Light a Big Fire's second album. And as a session musician, he recorded for many groups in Europe.
He was cast as the same character as his father on three occasions
His father is W. Morgan Sheppard and the father-son pair portrayed the same characters at different ages. These were: Canton Everett Delaware III in the Doctor Who episode 'The Impossible Astronaut', Marcin Jarek a.k.a. "Mr. Pain" in the NCIS episode 'Broken Bird', and Captain Nemo in the film Mysterious Island. 
Supernatural Cast: Felicia Day (Charlie Bradbury)
Day is an avid gamer
She plays a wide variety of video games. Much of her work on The Guild web series was based on her personal video game experiences, especially when she played World of Warcraft. She's the creator, star and writer of The Guild series, which premiered on Youtube for the first season. Microsoft even made a deal with The Guild, allowing the crew to be paid for their work on the series!
She's released books
Day is the author of the memoir You're Never Weird on The Internet (Almost) and Embrace Your Weird: Face Your Fears and Unleash Creativity. As well as this, she released two graphic novels related to The Guild series.
Supernatural Cast: Ruth Connell (Rowena)
Connell is a dancer
She was sent to dance lessons at a young age to keep her cousin company. Connell showed promise and was accepted into Scottish Ballets Vocational Dance Education Scheme. Throughout her time with Scottish Ballets, she performed many child roles. Even the lead Clara in their version of the Nutcracker! Connell also won many titles, such as Scottish Junior Ballet Champion and Scottish Senior Ballet champion at Stage Festivals in Scotland when she was a teenager. 
She's voiced the Disney Princess Merida
Although Connell didn't voice Merida in the film Brave, she has had the opportunity to voice the character. She voiced Merida in an episode of Sofia the First and in the video games Disney Infinity: Marvel Super Heroes, Disney Infinity 3.0 and Lego The Incredibles!
Supernatural Cast: Mark Pellegrino (Nick/Lucifer)
Pellegrino has starred in a lot of popular TV shows
If he looks familiar, you might have seen him as these characters in the following: Paul Bennett in Dexter, Jacob in Lost, Bishop in Being Human, and Deputy Bill Standall in 13 Reasons Why. He also appeared in some episodes of the X-Files, Greys Anatomy, Prison Break and Criminal Minds.
He studied marine biology
Before turning his focus to acting, Pellegrino studied marine biology at college!
Supernatural Cast: Jim Beaver (Bobby Singer)
Like Ackles, he also has a role in The Boys
Beaver has currently appeared in three episodes of The Boys. He played a character called Robert 'Bob' Singer. That's almost the exact same name as his character in Supernatural!
He was a part of the U.S. Marine Corps
After graduating from high school, Beaver and some of his friends joined the United States Marine Corps. He was trained as a microwave radio relay technician. Upon his release from active duty in 1971, he went to university. It was there that he found an interest in theatre. He made his theatrical debut with a small part in The Miracle Worker. And he even wrote some of his own plays, as well as his first book on the actor John Garfield.
Which of these facts were your favorites? Let us know!