The Vampire Diaries Elijah Mikaelson (played by Daniel Gillies) is older brother to everyone's favorite villain, Klaus Mikaelson. However, in the spinoff series The Originals that features the Mikaelson family in its entirety, many could argue that Elijah stole the show.
Elijah goes through his own trials and tribulations as he tries to keep his nefarious undead family together. He is cast in the light of a big brother role where he wants to redeem his family, but viewers soon learn that Elijah might be the most in need of saving.
In the end, Elijah and Klaus find their redemption in death and spend their final moments together in a series finale that broke the hearts of thousands of fans.
So what has Daniel Gillies been up to since the end of Vampire Diaries and The Originals? We decided to find out.
Here are some fun facts about The Vampire Diaries Elijah Mikaelson and a look into the life of Daniel Gillies post vampire!
The Vampire Diaries Elijah Mikaelson: Fun Facts You Didn't Know!
#1 He Was The First Mikaelson On The Vampire Diaries
Elijah made his debut on the show in season two, before Klaus or any of the other Mikaelsons. He played the villain who was after Elena.
#2 He Almost Didn't Exist.
According to show writers, Elijah was not suppose to exist! It was suppose to just be Klaus. But because they had a difficult time casting the perfect Klaus Mikaelson, the writers used Elijah as a way to buy themselves more time and Elijah became a way to lead into Klaus once they finally cast Joseph Morgan. I think fans would agree this worked out for the best.
#3 He Founded The Strix
One of Elijah's goals during the Middle Ages was to gather great minds to work together to improve society. He called in The Strix. Unfortunately, Elijah had to flee with his siblings to escape their father, who hunted them. In his absence, the Strix became a group of sociopaths almost entirely from Elijah's bloodline.
#4 He's A Musician
Elijah teaches a young Marcel how to play the piano in the 1800s. In the present day, he plays piano with a jazz combo in a New Orleans bar. Yet, despite Elijah's clear enjoyment of music and talent for playing, other concerns prevent him from pursuing this interest in the way he might.
#5 He Helped His Father Curse Klaus
One of the reasons Elijah is so insistent on saving his brother's soul is his own guilt. After their mother turns Elijah and his siblings into vampires, Klaus unknowingly activates his werewolf curse. This made it clear that Klaus didn't share the same father as the rest of the Mikaelson siblings. Instead, Klaus' father is one of the werewolves who lived nearby — a fact their mother had kept secret from everyone.
Surprised and horrified by this revelation, their father, Mikael, insists that his wife curse Klaus to suppress his werewolf side. Elijah helps his father bind Klaus and stands by as he is tortured with the curse.
#6 He's Got Some Serious Issues
When we first meet Elijah, he seems to be an honorable put-together gentleman. He always dresses well and prefers negotiations over violence. But we soon learn the darker truth.
Elijah's first kill after becoming a vampire is his girlfriend's life. From that moment Elijah realizes what being a vampire really means. He is appalled at his new existence and unable to cope. Elijah's mother instructs him to 'clean himself up' and move on. Elijah's broken mind clings to his mother's words. He locks the traumatic experience away in his mind and becomes 'the perfect son' – a persona he uses like a mask to hide what he really is.
The Vampire Diaries Elijah Mikaelson: Fun Facts About Daniel Gillies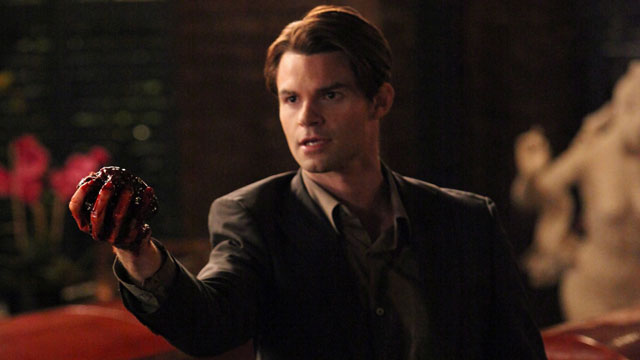 #1 He's A New Zealander
Daniel Gillies was born in Canada but moved with his parents to their native country, New Zealand when he was just 5 years old. His parents both work in the medical field, but Daniel always wanted to be an actor.
#2 He Moves Around For His Career
Gilles felt like acting jobs in New Zealand were too limited, so in 2001 he moved to Canada, then Australia, before finally settling in Los Angeles, USA to pursue his career. He landed lead roles in Spider Man 2 and Bride & Prejudice in addition to guest starring on True Blood, NCIS and others before landing the role as Elijah in The Vampire Diaries.
#3 He's Divorced
Daniel Gillies married American artist Rachael Leigh Cook on August 8, 2004. They have two children, a daughter born in 2013 and a son born in 2015. But the couple officially divorced in 2020. He is now believed to be dating Julia Misaki.
#4 Life After The Originals
After the season finale of The Originals, Gillies worked on hits like Virgin River, Occupation: Rainfall, and Coming Home In The Dark.
We're sure to see a lot more of him in future.
The Vampire Diaries, The Originals, and Legacies are available to watch on Netflix.
Did any of these facts about The Vampire Diaries Elijah Mikaelson surprise you? Let us know in the comments!
If you liked this post, be sure to check out:
The Vampire Diaries Klaus Mikaelson: 18 Shocking Facts