FREE Book of the Day 3/28/2013
Here is today's FREE book for you.
The Demon Isle Witches: Bloodsucker Bay by R H D'aigle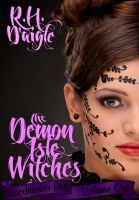 Off the coast of New England is the Demon Isle, a place notorious for its weird stories, ghostly encounters and mythical creature sightings. It is New England's hot spot for tourists; especially tourists interested in the Supernatural and paranormal.
What these tourists do not know… and what the long time locals do know… is that all the stories and rumors about The Demon Isle are true!
But no magical hot spot can go unprotected! And neither does The Demon Isle, which has been under the watchful care of the Howard Witches since its inception. But protecting the island from its magical inhabitants and intruders can prove hard on a normal day, and today, is not one of those days! As the sheriff of The Demon Isle needs help solving a murder, one she fears is magical in nature.
Michael Howard, a death reader, along with Charlie Howard (a little more than human) set off to help the sheriff of The Demon Isle solve this mystery when they meet a damsel in distress that turns out to be more than she appears.
Meanwhile, their sister, Melinda, gifted with prophetic dreams, races against the clock to save the life of a dear family friend, currently haunted by a malevolent spirit in search of a body to possess. Melinda's powers alone, however, will not be enough. She will need both of her brothers to save this friend's life and banish this spirit.
But when the moment comes to save her, they find the siblings suddenly have an unexpected choice to make: allow the possession, which might harm if not kill their friend, or to banish the spirit before it can pass on a message, which the spirit claims is from a deceased Howard witch.
Click here to get Bloodsucker Bay on Amazon.com >>
Click here to get Bloodsucker Bay on Amazon.co.uk >>
Click here to get Bloodsucker Bay on on B&N>>
Click here to get Bloodsucker Bay on Smashwords >>
* Please check price before you download to ensure it is still on FREE offer *
No Kindle?  No problem!  You can download the Kindle App for tablets, smart phones and computers by clicking here >>
Tell us what you think! Give us some feedback and let us know if you enjoyed this book!
[hcshort id="6″]