♥ FREE Valentine's Books for Kindle!! ♥
All of the following books are FREE on Valentine's Day!! ♥
Ember's Curse by Gena D Lutz
For Prime-Werewolf Ember Stilwell, life has been far from normal. Decades ago, a vengeful Witch cursed her Pack, leaving the women of her line incapable of feeling love. When an organized group of immortal killers begin to stalk and capture wolves from her pack, she sets out on a path fraught with danger. Just when it seems the world as she knows it will be changed forever, she meets Collin, an Alpha Werewolf with a body built for sin. As her heart begins to heal, she comes to find that the demons of her past are not nearly as dangerous as the nightmares she will be forced to face in her future. Can finding her true love conquer all? Or will the ability to feel for the first time be overshadowed by losing everything else she holds dear?
Click here to view on Amazon.com >>
Click here to view on Amazon.co.uk >>
Blood Judgement by Nickie Asher
How does a vampire fight a government determined to exterminate his race? Any bloody way he can.
Fledgling Julian Wilkes is thrust into a nightmare world where Seattle's vampire population are brutally victimized by humans.
After the devastating loss of his career as a symphony musician, Julian has little left to believe in until he meets Saranna, a female vampire who steals his breath and his heart.
But after witnessing the horrifying murder of three young vampires, Julian understands that only the underground Resistance can save his persecuted race from total government annihilation and he wants to join the fray—if only he can prove himself a warrior.
Click here to view on Amazon.com >>
Click here to view on Amazon.co.uk >>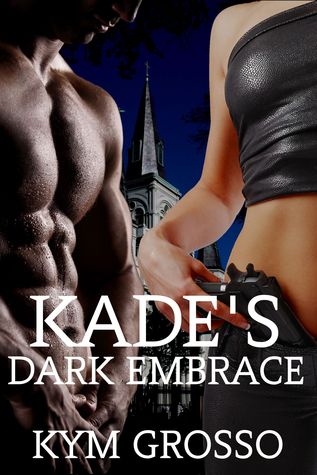 Dark Embrace by Kym Grosso
After a series of girls are ritualistically murdered on the cold streets of Philadelphia, seasoned detective,  Sydney Willows, is forced to work with sexy, alpha vampire, Kade Issacson. While working the case, Sydney finds herself inexplicably drawn to Kade, fighting the passion she feels towards him. Kade, determined to solve the case and mete out justice, is captivated by the independent, fiery detective.  As he attempts to protect her from a very real murderer, Kade grows concerned that the beautiful, but very human detective, could easily end up dead should she tangle with supernatural forces that are beyond her control.
The investigation leads them into a dark and dangerous world, deep in the heart of New Orleans, where together, they search for the perpetrators of the Voodoo killings.  Sydney soon becomes the target of the killer and ends up fighting for her life and love in the Big Easy.  If she makes it out alive, will  she give into the intoxicating desire she feels for Kade?
Kade's Dark Embrace is an erotic paranormal romance.
Click here to view on Amazon.com >>
Click here to view on Amazon.co.uk >>
Legacy Forgotten by Nicole Hill
Ailis has spent her life pretending she didn't have powers. Her mother deemed them "Unnormal" and therefore bad. Her grandmother spent the first years of Ailis' life teaching her, preparing her for a great destiny. When her mother found out, she moved them away. Ailis decided to spend her life on the side of law enforcement. Her only problem now? She's pretty sure the serial murders her homicide unit is investigating aren't being committed by a human. In walks the most gorgeous man she's ever seen. What's wrong with that? Ailis not only knows he's a vampire. She also knows he's the one draining child molesters and murderers and leaving an empty carcass for her unit to find. During her investigation she unearths secrets about her family's past that takes her back to Camelot so she can right a wrong that occurred hundreds of years ago. Can she trust this vampire to help her solve a mystery that could very well end up with her being life challenged herself?
Dangerously attractive vampire, Kenneth has been around long enough to know there are no such things as coincidences. That's why, when he meets the undeniably strong willed homicide detective Ailis, he knows there's a good explanation as to why she looks identical to his long dead fiancé. He just has to figure out what that would be. When his one hundred year nemesis shows up in Miami and tries to force Ailis to join him, Kenneth realizes her powers are worth something to even the worst of his kind. He pledges to protect her as long as he is still breathing. If those trying to keep her from fulfilling her destiny have anything to do about it, that won't be long at all.
Click here to view on Amazon.com >>
Click here to view on Amazon.co.uk >>
Crescent Bound by Karli Rush
Alyssa Worthington is the daughter and sole heir to the most prestigious coven in the witch world. Her childhood has been spent in the mundane human world learning to blend in and hide who she truly is, and it is here, during her last year that she meets a striking ex-high school quarterback from a small town in Montana who will turn her world upside down.
Alyssa holds the element of fire, unlike her best friends Lisa and Megan, who are both air elementals. It is the elemental powers that reside inside which require positive thoughts and positive actions in order to maintain this magickal connection. What would happen to a witch that let this get out of control? How can evil become the driving force behind revenge and death?
Dark secrets, dark magick and a desperate desire for revenge will bring Alyssa to the brink of destruction. She is being chased, but this pursuit is a silent one and her chaser has but one goal, Alyssa's complete and total destruction. Will she overcome this dark threat and begin to live out her destiny? Will she survive and if so, will she lose herself as part of the price for being alive? Or, will her destiny rest on being crescent bound?
With all these dark forces creeping around silently in Alyssa's life, her coven pushes for answers, some of the answers about an eighth and missing coven, in the witch world, lie with her new interest. Marcus may be the key to unlocking the mystery of the silent darkness threatening the seven remaining covens.
Click here to view on Amazon.com >>
Click here to view on Amazon.co.uk >>
Seducing a Mermaid by Karli Rush
Sam Vanikey is under tremendous pressure.
His new gallery opens in less than a month and he has yet to produce any art in over a year. His inspiration is gone after leaving Angie and depression threatens to rob him of the life he loves. Sheila, his supportive sister sequesters Sam on an exclusive island getaway off the coast of Seattle.
Getting his life back together is his goal. As he relaxes on the beach searching for relinquished insight, something happens. This sends Sam into a series of unforgettable events. It will test everything that is important to him. In the end, will Sam claim his much needed inspiration and become the all aspiring painter he dreams to be? Or will fate decide?
Click here to view on Amazon.com >>
Click here to view on Amazon.co.uk >>
My Familiar Stranger (Order of the Black Swan #1) by Victoria Danann
Minutes ahead of inevitable assassination, Elora Laiken is forcibly transported to an alternate dimension similar, but not identical, to her own. She is stranded. Alone. Far from home. A stranger in a "strangish" land.
Of course a girl could suffer worse problems than having gorgeous suitors. Perhaps more importantly, in the midst of an epidemic of vampire related abductions, can she stay alive long enough to choose between an honor debt, true love, or the breathlessness of single-minded passion?
Click here to view on Amazon.com >>
Click here to view on Amazon.co.uk >>
The Witch's Dream (Order of the Black Swan #2) by Victoria Danann
He was left behind when Elora Laiken made her choice. Now he's had it with love, but a transplanted witch who happens to be the world's best tracker hopes she can change his mind.
The Witch's Dream begins with B Team on temporary assignment to Black Swan headquarters in Edinburgh where they are supposed to fill in for stretched-thin resources and assist with a werewolf issue. They've been given permission to stop in Ireland for a few days to celebrate a handfasting.
When they reach Edinburgh, the afterglow of an elftale wedding quickly becomes all business. A missing person report turns into a demon abduction. A simple werewolf sanction becomes a diplomatic issue requiring the one thing Elora is no longer willing to give – finesse.
Click here to view on Amazon.com >>
Click here to view on Amazon.co.uk >>
The Immortal Scrolls by Kristin Secorsky
Cursed with immortality, Androcles has been mourning the loss of his beloved Araceli for centuries. Until Skye, a beautiful archaeologist, discovers the scrolls he wrote recounting his life and rebirth as a vampire. Androcles goes to destroy his scrolls and his secret but is taken aback by Skye's striking resemblance to Araceli. Androcles grows more obsessed with Skye who has secrets of her own. Dangers from his past are closing in as Androcles starts to unravel Skye's mysterious past. Set in ancient Rome, Britannia, and modern day Italy, The Immortal Scrolls is an irresistible love story you won't want to put down!
Click here to view on Amazon.com >>
Click here to view on Amazon.co.uk >>
* Please check prices before you download to ensure they are still on FREE offer *
No Kindle?  No problem!  You can download the Kindle App for tablets, smart phones and computers by clicking here >>
Tell us what you think! Give us some feedback and let us know if you enjoyed these books!
[hcshort id="6″]