Review – Kade's Dark Embrace
About Kade's Dark Embrace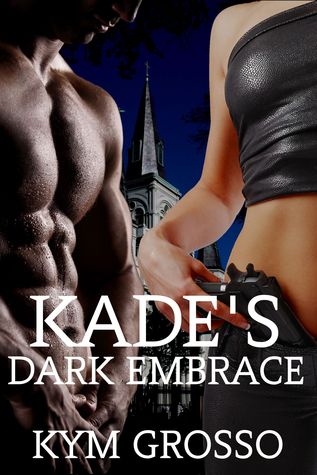 After a series of girls are ritualistically murdered on the cold streets of Philadelphia, seasoned detective, Sydney Willows, is forced to work with sexy, alpha vampire, Kade Issacson. While working the case, Sydney finds herself inexplicably drawn to Kade, fighting the passion she feels towards him. Kade, determined to solve the case and mete out justice, is captivated by the independent, fiery detective. As he attempts to protect her from a very real murderer, Kade grows concerned that the beautiful, but very human detective, could easily end up dead should she tangle with supernatural forces that are beyond her control. The investigation leads them into a dark and dangerous world, deep in the heart of New Orleans, where together, they search for the perpetrators of the Voodoo killings. Sydney soon becomes the target of the killer and ends up fighting for her life and love in the Big Easy. If she makes it out alive, will she give into the intoxicating desire she feels for Kade?
Our review
Kym Grosso has created a fantastic beginning to what promises to be an amazing paranormal series-The Immortals of New Orleans! Kade is a dominant, sexy, extremely handsome over two century old ALPHA vampire that heads the paranormal community in New Orleans. Sydney is a head strong, street smart, beautiful Philadelphia cop that has to share her case with this "man" that has come to her city at the request of his long time friend, who is also a werewolf and a friend of Sydney's. They butt heads from the moment they are introduced which only adds to the immediate attraction and the sparks that begin flying.
Ms. Grosso has an awesome talent for creating believable, likable, infuriating and enthralling characters. She weaves a plot that pulls the reader into the story and her characters have you laughing, crying and screaming right along with them! She does not simply give you an easy story where vampire meets mate and they ride off into the sunset. She makes you work for it! She creates an entire paranormal community that spans from Philadelphia to New Orleans and I am sure the entire world before she is done. Not only are we dealing with a crazy power obsessed vampire but there are dark mages and white witches, it is a thrill ride that will have you reading faster and faster and unable to put it down!
Just when you think you are about to get your happily ever after Ms. Grosso is not done with us yet! She keeps the excitement coming until the very last page and promises much much more with her lead into the second book, Luca's Magic Embrace. Ms. Grosso's incredible depth of secondary characters and plot promises this will be a long running series with one book even more thrilling and captivating than the next! Grab this book and buckle up! The ride is more than worth it!!!
Review by Julia for ILVN
Bite Rating
Click here to view Kade's Dark Embrace on Amazon.com  >>
To WIN paperback or ecopies of both Kade's Dark Embrace and Luca's Magic Embrace, enter the Rafflecopter below…