Your Thursday Reading List – 1/14/20
Vampire by Birth
Cyndi Faria
$0.99
​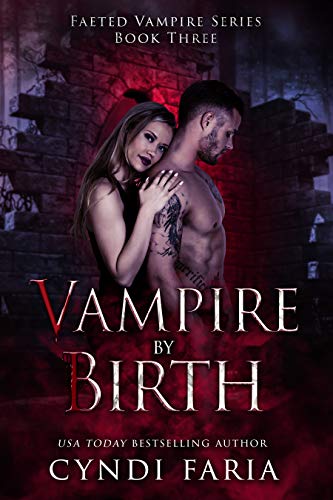 She's pregnant with the first of its kind, but rumor has it neither will survive. Will she save her family before they're struck down by dark magic?

USA Today Bestselling Author Cyndi Faria introduces A Faeted Vampire Romance…

Queen of Faery, Tricia McIntyre, is pregnant with the first of its kind, a half-fae, half-ancient vampire. But rumor has it that she won't survive the birth.

To complicate the situation, the blood bond between herself and her mate, Master Vampire Riley Sweetwater, has deadly repercussions: If she dies then Riley dies, as well as his coven—vampire soldiers who guard the delicate balance of humanity by keeping at bay a fae-vampire war.

On their quest for answers, death isn't an option Tricia or Riley will accept. As dark magic works against them and draws them deeper into the underworld of Faery, will they survive when no one who's entered has ever emerged?
The Vampire's Kiss
Ramona Gray 
FREE
​
Abigail Winters leads a perfectly ordinary life until the night she's transported to an alternate earth. Attacked by vampires, her life is saved by the gorgeous but dangerous vampire, Val. When Val is injured and needs her blood to heal, she repays her debt by allowing him to feed from her. But she is unprepared for the immediate desire she now feels for the sexy vampire.

Despite saving her life, Val has no interest in feeding from the curvy human. It will be weeks before her need for him wears off, if she doesn't go mad first, and he has no wish to have her pining after him and begging him to feed from her again or worse – have sex with her. Gravely injured and with no other choice, he feeds from Abigail and is intoxicated by the sweet taste of her blood. Determined to claim her, his obsession with her grows as she fights her undeniable attraction to him.

When Abigail is taken from him, Val will do whatever it takes to find her.
Alpha Feud
Darla Dunbar
FREE
​
Eliza lives in the quiet town of Birkbridge, Indiana, where nothing big ever seems to happen. As the daughter of a legendary wartime correspondent, Eliza feels as though she has large shoes to fill. Sadly, her own career as a reporter at the local news station is beginning to feel dull, and her once-ambitious boss, Jim, is failing to live up to his former appeal in the industry. Instead, he sends Eliza to report on boring, crowd-pleasing events, like their country livestock fair. As if Midwestern life wasn't boring enough already…

With the arrival of two handsome brothers, the lives of Eliza and her best friend, Melissa, are shaken to the core. For Eliza, the arrival of this new man, Hayden, becomes a test of her relationship with her current boyfriend, Andrew, who she's been happily living with for over six years. To make matters worse, Eliza also suspects that her mysterious admirer may have more secrets than his calm demeanor reveals.

Eliza struggles to negotiate her professional and private life, while also dealing with an adversary from her past. When the opportunity to investigate Hayden's past arises, Eliza simply can't resist; she leaves the normality of her comfortable life behind and takes a leap into the unknown.

Does Hayden, a complete stranger, really wield the power to make Eliza reconsider her relationship with Andrew?