Your Tuesday Reading List – 3/26/19
Dark Blood
Nikki Hayes
$0.99
I'm Natasha. Friends call me Tash.
The world calls me loser. No one knows I possess a deadly magic.
It was supposed to be a simple surveillance job, just like the zillion others I had run for my tough-guy benefactor, Tobias. An hour into it, I'm sitting with a dead body after barely surviving a warlock's rampage. I thought things couldn't get any worse, but what did I know? Running point for Tobias or being witness to a murder was the least of my worries.
Now I've been blackmailed into working with sexy paranormal cop Ian, and I must help him find what the warlock is up to before he destroys whatever is left of our world. A piece of cake, right? Sure, if you ignored the dark magic I was born with.
I just might save the world from a warlock's evil plans, but can I save it from the darkness that lies within me?

Wake's Claim
Michelle Dare
$0.99
Wake had lived in fear for far too long. Life hadn't been easy for him. Every day he resisted his natural instincts to claim the one female meant for him. An event from his past stopped him in his tracks every time his primal urges pushed him toward her.
Paige accepted the role she played in Wake's life. She was the one he wanted but never allowed himself to have. But when someone else showed interest in her, Wake had to decide once and for all.
Putting his heart on the line left the shifter vulnerable, something he never wanted to be again. And just when he gave in to his instincts, fate dealt the pair a cruel hand.
Nightmares came true, causing Paige to flee to the only place she felt safe—in the arms of Wake.
Pack life wasn't an easy life, but Paige wouldn't give up the man who held her heart. Only together could the two move forward and find the happiness they both deserved.

My Viking Vampire
Krystal Shannan
FREE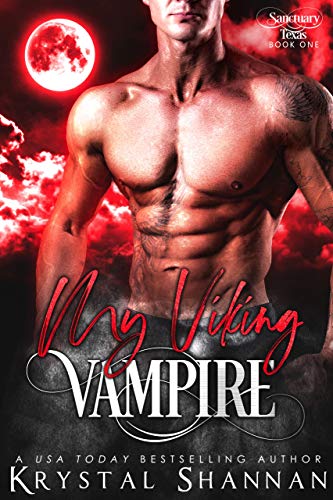 I'll fight to the end or die trying…
With enemies closing in from every side, I've got nowhere to run—except into the arms of a sexy stranger who says he can protect me. But this guy comes with a bit more than I bargained for. For one, he's a vampire. Still, anything is better than being caught by my psycho ex.
Let Sanctuary, Texas take you on a heart-pounding-toe-curling ride into a town of fantastical creatures and a war for world domination you won't soon forget.