Your Tuesday Reading List – 5/7/19
Claimed by Two Navy Shifters
Jasmine Wylder
$0.99
When war reigns, love prevails.
Curvy bartender, Roxanne Moreno, hasn't thought about a relationship since the death of her parents. Too busy taking care of her younger brother, Dustin, she simply hasn't had the time for a committed relationship. Not that relationships in the past have worked out all that well. Then, one day, just when life seems to be breaking down, two men entered her life, bringing out the animal inside of her.
While one is hot the other is cold. While one is sweet the other is sexy. In a perfect world, the two men would make the perfect pair, but the two of them mix just as well as oil and water. Yet, Roxie can't help but picture both… in her bedroom… as her mates.
But the two men will never share. After serving in the Navy Seals, they have had enough of each other but they are once again thrust into each other's company when they fall for the same girl. Leo, the alpha bear, feels that it is natural for her to be with him. Warren, the lone wolf, simply wants a mate that will help him reestablish his decimated pack.
Will Leo be able to seduce her, or will Warren win her heart with his good-mannered ways? How will Roxie choose one over the other when her heart – her instincts – clearly yearn for both? When both men are at odds with each other and their past comes back to haunt them, will their love for the sexy ebony woman persevere or will they crash and burn just as they did in war?

Immortal Blood
Elena Bryce
FREE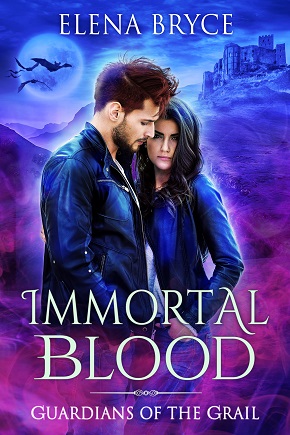 Protect the Grail, battle the hunters, don't fall for the bad boy vampire.
When new witch Ivy is asked to help secure the Holy Grail she has no idea how dangerous it will get. Especially as she is aiding a hot immortal who has a history with the women in her family line. But it's not just her heart and her life at stake, if the Grail falls into the wrong hands then all humanity could succumb to darkness.
A fast paced fantasy with bite!

Unveiled: The Dark Skies Trilogy Book One
Lysa Daley
FREE
An ancient prophecy. A terrifying threat. A regular girl who's destined to become a hero – whether she wants to be one or not.
Yesterday, Astrid was a normal sophomore at an elite college in a sleepy California town whose biggest problem was trying to figure out how to get hottie Chad Olson to notice her. But today, after an otherworldly meteor nearly destroys her house, she discovers a shape-shifting bounty hunter is hot on her trail.
Her only hope of survival is to team up Jax, the arrogant handyman who works for her uncle. Lucky for Astrid, Jax turns out to be more than she could have ever predicted. In her quest for survival, Astrid learns the dark truth about her past and how she fits into an ancient intergalactic prophecy that foretells the fate of the entire planet.